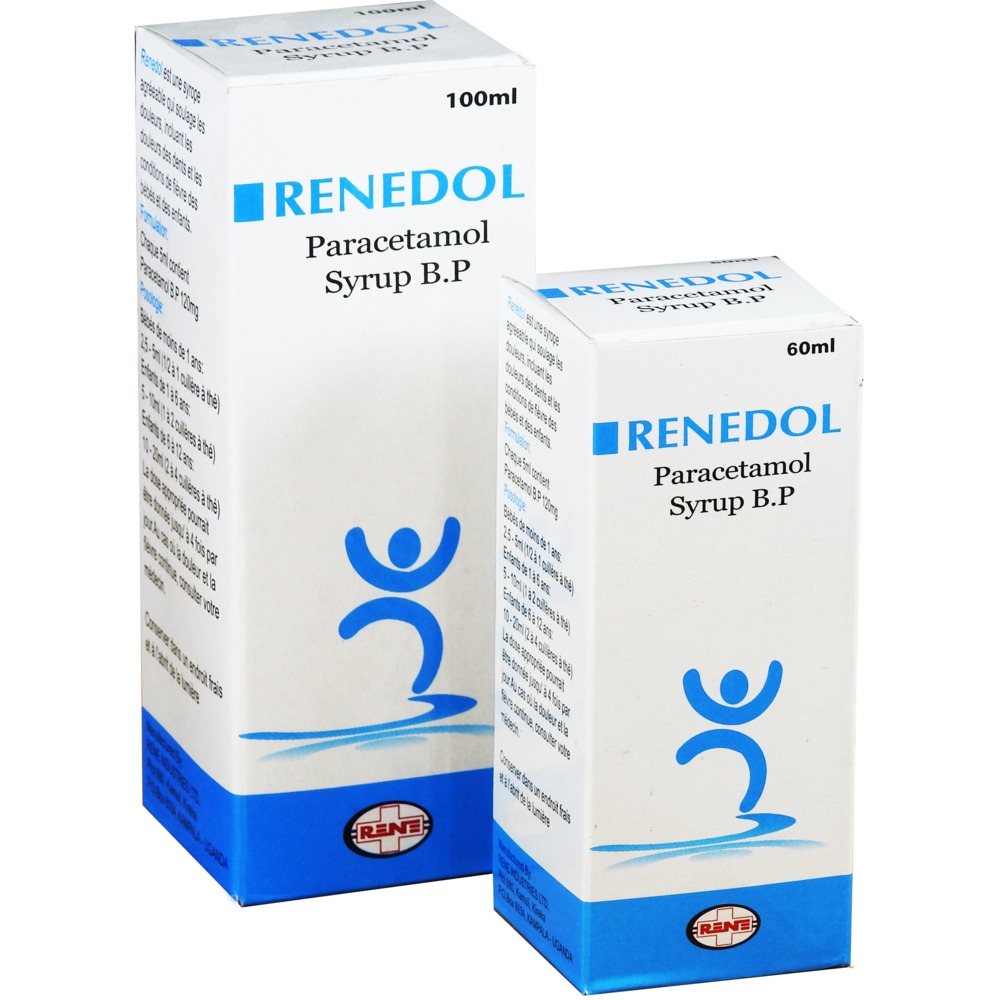 RENEDOL
Paracetamol is an antipyretic and mild analgesic with few, if any, anti-inflammatory properties and no effect on platelet aggregation. It has no irritant effect on the gastric mucosa and can be used safely and effectively in most individuals. It is used for the relief of fever as well as aches and pains associated with many conditions.
Presentation
100ml bottle

Description
Indications
Renedol syrup is suitable for the treatment of pains of all kinds: Headaches, dental pain, postoperative pain, Pain in connection with colds, post-traumatic muscle pain, Migraine, headache, dysmenorrhea and joint pain.
Pharmacological class
Analgesic
Pharmacological properties
Fever reduction, pain relief
Mechanism of Action
Paracetamol is generally considered to be a weak inhibitor of the synthesis of prostaglandin under some circumstances. Paracetamol also decreases PG concentrations in vivo, but, unlike the selective COX-2 inhibitors.
Side effects
Side effects of Renedol syrup are usually mild, though haematological reactions have been reported. Skin rashes and other allergic conditions occur occasionally. Symptoms of paracetamol overdose in the first 24 hours are nausea, vomiting, anorexia and abdominal pain.
Contraindications
Normally Paracetamol is a safe drug, but can be contraindicated in patients having hypersensitivity to it.
Drug interactions
Taking Renedol syrup while taking cold or allergy medications, these medicines may already contain paracetamol and taking both may result in overdose. Other drugs, such as blood thinners and seizure medications, can interact with paracetamol.
Please follow and like us: