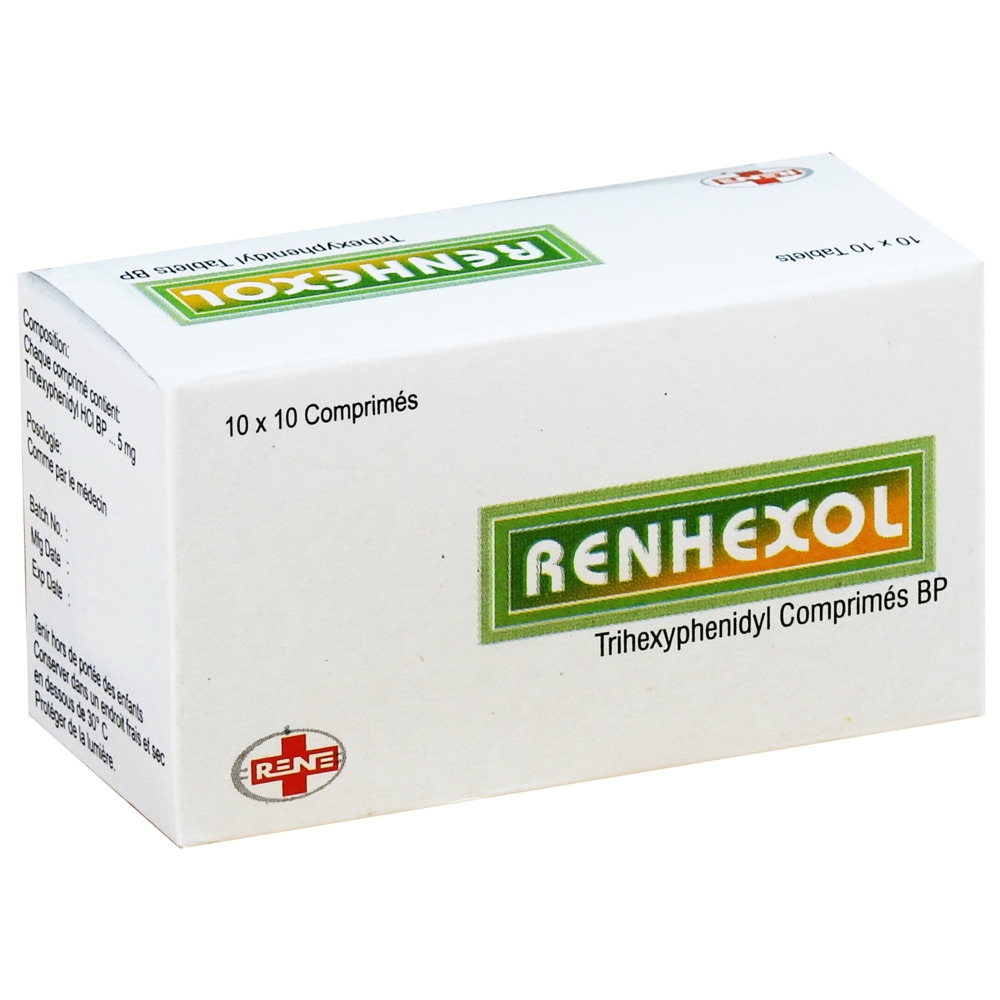 Description
Indications
It is used to treat Parkinson's disease by improving muscle control and reducing stiffness so patients can move more naturally, treat abnormal face and body movements, muscle spasms and restlessness caused by certain drugs.
Pharmacological class
Antiparkinsons'
Pharmacological properties
Anticholinergic
Mechanism of Action
Trihexyphenidyl works by correcting a chemical imbalance in the brain that affects the transmission of nerve impulses. It exerts its effects by reducing the effects of the relative central cholinergic excess that occurs as a result of dopamine deficiency.
Side effects
Blurred vision, feel dizzy, less alert than usual, dry mouth, constipation, difficulty in passing urine, faster heartbeat, nervousness, high doses of this medicine may cause excitement, feeling of great happiness, agitation or confusion, hallucinations, restlessness.
Contraindications
Renhexol (Trihexyphenidyl) is contraindicated in patients with hypersensitivity to Trihexyphenidyl HCl or to any of the tablet or its ingredients. Renhexol (Trihexyphenidyl) is also contraindicated in patients with narrow angle glaucoma. Blindness after long-term use due to narrow angle glaucoma has been reported.
Drug interactions
Cannabinoids, barbiturates, opiates, and alcohol may have additive effects with Renhexol (Trihexyphenidyl) and thus, an abuse potential exists.
Concurrent use of alcohol or other CNS depressants with Renhexol (Trihexyphenidyl) may cause increased sedative effects. Monoamine oxidase inhibitors and tricyclic antidepressants possessing significant anticholinergic activity may intensify the anticholinergic effects of antidyskinetic agents because of the secondary anticholinergic activities of these medications. Prophylactic administration of anticholinergic agents, such as Trihexyphenidyl, as a prevention of drug-induced Parkinsonism during neuroleptic therapy is not recommended. There may be an increased risk for the development of tardive dyskinesia during concomitant administration of anticholinergics and neuroleptics.
Please follow and like us: