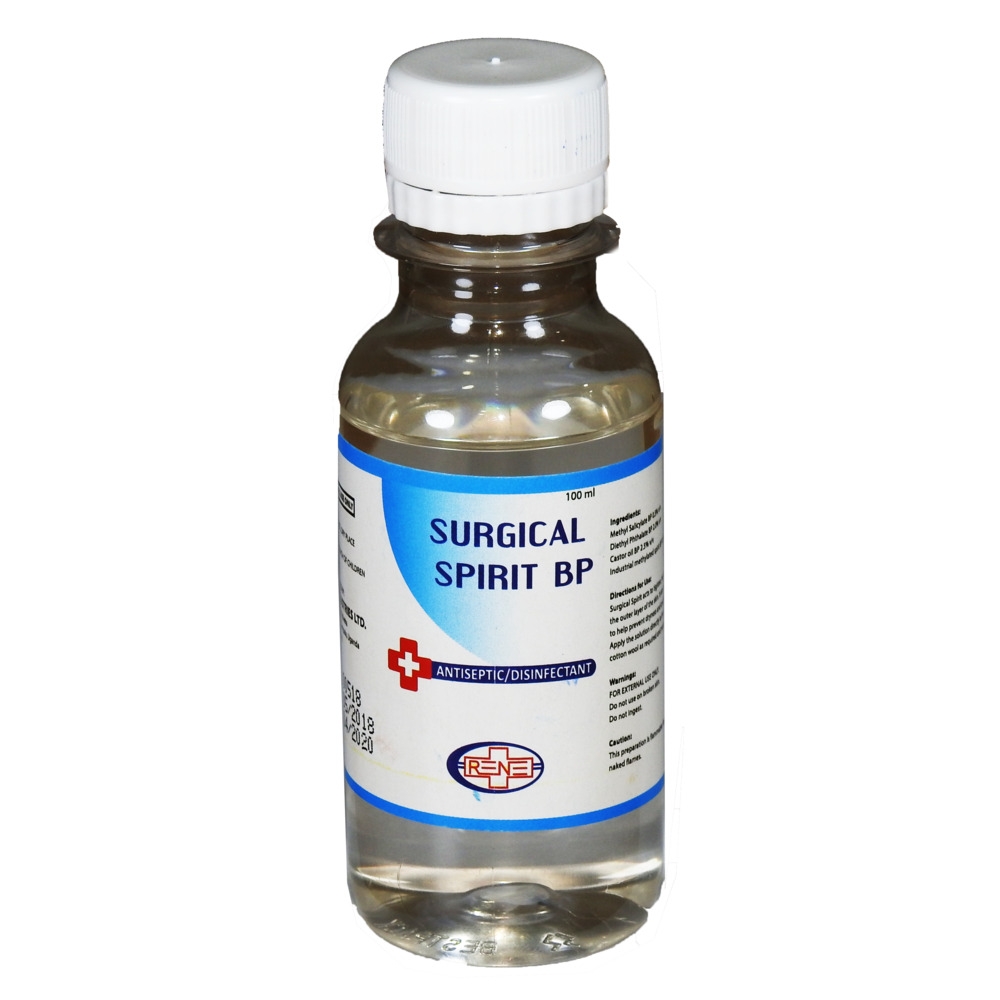 Description
COMPOSITION
Surgical spirit contains methyl salicylate 0.5% v/v as the active ingredient.
It also contains diethyl phthalate BP, castor oil and industrial methylated spirit BP.
Therapeutic indications
The spirit is applied to the surface of the skin for use as a cleansing agent and it also has antiseptic properties.
Used for skin preparation before injection.
Posology and method of administration
Posology:
Adults and Children:
Apply to the affected area using cotton wool as required.
Method of administration.
For external use only.
Wet a swab of cotton wool with surgical spirit and apply to the skin.
Contraindication
Do not use surgical spirit if you are allergic (hypersensitive) to methyl salicylate or any of the other ingredients.
Special warnings and precautions for use
Do not apply to mucous membranes (such as the linings of the mouth and nose) or scratched or damaged skin and broken skin
Flammable; Keep away from naked flames. Harmful by inhalation.
Interaction with other medicinal products and other forms of interaction
There have been reports that topical salicylates may potentiate the anticoagulant effects of warfarin.
Pregnancy and lactation
Surgical Spirit can be used during pregnancy and breast feeding. It is advisable to consult your doctor or pharmacist before using this product.
Overdose:
This product is recommended for external use only and as such overdose is unlikely. Absorption of methyl alcohol through the skin, ingestion or inhalation of the vapour may produce systemic effects. The symptoms of methanol poisoning include severe abdominal pain, metabolic acidosis with rapid, shallow breathing and visual disturbances which may proceed to irreversible blindness. Other symptoms include headache, nausea, vomiting, diarrhoea, weakness, vertigo, ataxia, mild tachycardia, confusion, dizziness, delirium and coma which in severe cases may terminate in death due to respiratory failure or rarely in circulatory collapse.
Effects may not be obvious straight away therefore report to the hospital immediately.
Pharmacological properties
Mechanism of action:
Surgical Spirit acts to tighten, harden and disinfect the outer layer of the skin. It is also used for general sick-room purposes. Castor Oil prevents the skin from drying and cracking.
Pharmacokinetic properties
Methyl salicylate may be absorbed through intact skin after excessive topical application.
Side effects:
Frequent use may produce irritation and dry skin.
PRESENTATION
Surgical spirit is a clear solution and comes in clear PET bottle with plastic caps: 100ml,
STORAGE INSTRUCTIONS
Store in a cool, dry place protected from light.
Keep the bottle tightly closed. Do not store above 30 °C,
Keep out of reach and sight of Children.
Please follow and like us: