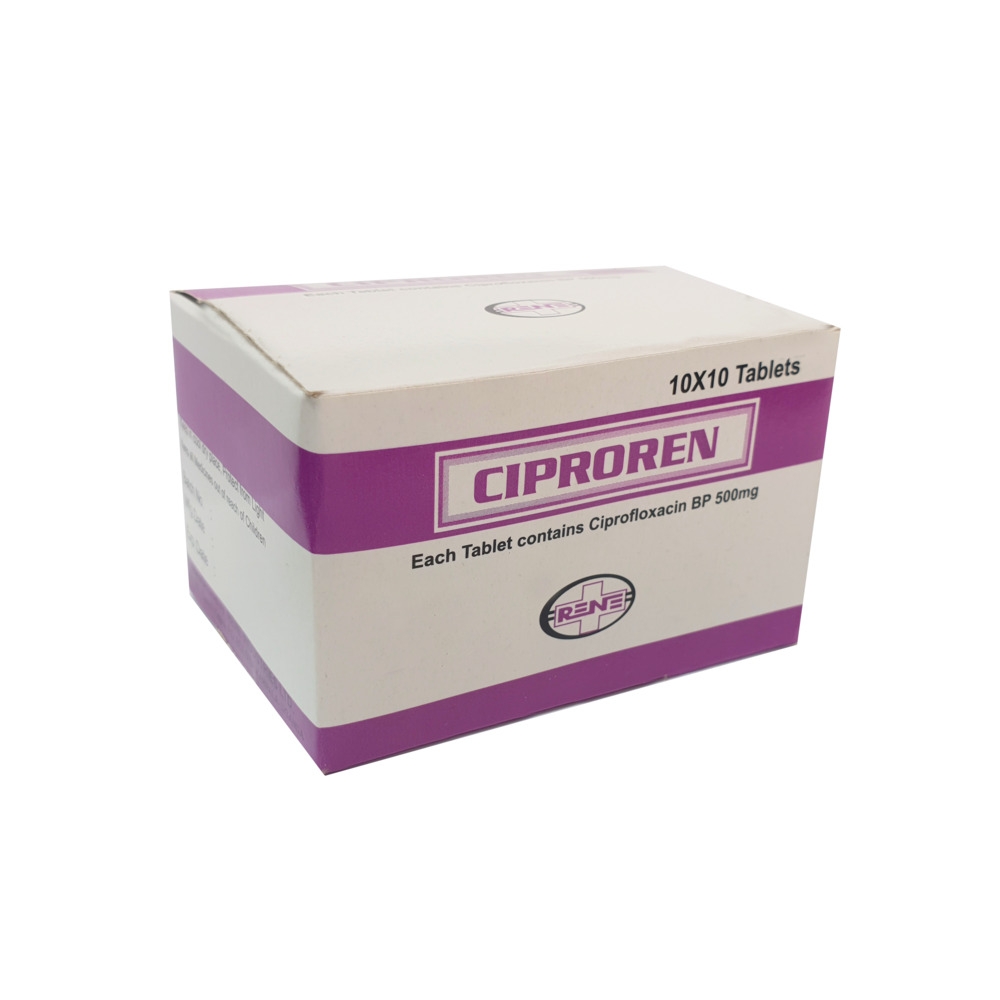 Description
INTRODUCTION
Ciproren contains Ciprofloxacin. Ciprofloxacin is a potent fluoroquinolone antimicrobial agent.
Ciproren is active against a broad spectrum of gram-negative and gram-positive bacteria including Pseudomonas aeruginosa, Staphylococcus aureus and Enterobacteriaceae.
MICROBIOLOGICAL ACTION
Ciprofloxacin is active against a wide range of gram-negative and gram-positive pathogens including strains resistant to penicillin, cephalosporins and/or aminoglucosides.
Ciproloxacin is effective against both replicating strains of bacteria in stationary phase. It is also effective against intracellular bacteria. It has significant post-antibiotic effect and thus prevents the regrowth of bacteria. The broad spectrum activity of Ciprofloxacin includes the following organisms:
Gram-negative bacteria:
Enterobacteriaceae: E. coli, Klebsella species, proteus species, Enterobacter species, Morganellamorganii, Citrobacter species, Serratia species and providenca species.
Pseudomonadacea: Pseudomonas aeruginosa and Pseudomonas cepacia.
Enteropathogenic: Salmonella, shigella species Enteropathogenic E. coli, Y. enterocolitica, A. hydrothilla, V.cholerae, Campylobacter jejuni& Arizona species.
Miscellaneous; N. gonorrhoeae, Pasteurella, Moraxella and GardnerellaVaginalis.
Gram-Positive bacteria.
Staphylococcus aureus including penicillinase-producing and methicillin-resistant strains; staph epidermidis, Strep.Pyogenes, Strep. Agalactiae, Strep. Pneumoniae, Strep. Viridans and Listeria monocytogenes.
Intra-cellular bacteria-resistant strains:
Chlamydia trachomatis, Mycoplasma hominis, Legionella species,
Brucella species; Anaerobes including most species of Bacteroids; Clostridium and Fusobactrium.
MECHANISM OF ACTION
Ciprofloxacin is a fast acting bactericidal agent. It interacts with A and B subunits of DNA gyrase and disrupt the DNA function leading to the death of bacteria. Bacterial, resistance with Ciprofloxacin is low and it even eliminates plasmid mediated resistance.
PHARMACOKINETICS
Ciprofloxacin is rapidly absorbed after oral ingestion. It enters most of the body compartments in which infections occur. The serum half life ranges from 3.0-3.4 hours after oral administration and the volume of distribution is more than 100 liters.
INDICATIONS
Respiratory tract infection: Acute bronchitis, infected bronchiectasis, and lung abscess exacerbation of chronic obstructive airways disease, empyema, cystic fibrosis and pneumonia.
Urinary tract infection: Acute and chronic pyelonephritis, prostatitis, cystitis, epididymitis and chronic complicated or recurrent UTI caused by multi-resistant organisms and / or Pseudomonas aeruginosa.
Skin and soft tissue infections: In surgical and postoperative wounds infections due to gram-negative organisms such as Enterobacteriaceae and pseudomonas aeruginosa. Also useful in infections caused by resistant staphylococci e.g. infected ulcer, cellulites, otitis extema, infected burns etc.
Bone and joint infections: Since Ciprofloxacin achieves tissue concentrations in bone; it is useful in the management of acute and chronic osteomyelities& septic arthritis.
Gynecological infections: Severe pelvic infections caused by susceptible bacteria, salpingitis, and endometriosis.
Gastrointerstinal infections: Effective in treatment of typhoid and may also eradicate carrier stage. Useful in resistant salmonella typhi infections and infective diarrhoea. Severe systemic infections like septicemia bacteremia infections in immunocompromised patients.
Surgical infections: Peritonitis, intra abdominal abscess, cholangitis, cholecystitis, and empyema of gall bladder.
Sexually transmitted diseases: Gonorrhea including that caused by beta-lactamase producing strains chancroid caused by H. ducreyi.
Eye, ear, nose & throat infections: Otitis media, sinusitis, mestoiditis, and tonsillitis
CONTRAINDICATIONS:
Cipofloxacin is contraindicated in hypersensitive patients. It is not recommended in children below the age of 12 years.
PRECAUTIONS:
As Ciprofloxacin may cause CNS stimulation, it should be used with cation in patients with CNS disorders such as epilepsy.
Patient receiving this drug should be well hydrated to prevent crystalluria. Excessive alkalinity of the urine should be avoided. The doses should be reduced in patients with renal impairment.
Since Ciprofloxacin caused arthopathy in immature animals, it should not be used in pregnant and nursing women.
Administration of antacids with Ciprofloxacin should be avoided as antacids containing magnesium hydroxide and/or aluminium hydroxide may interface with the absorption of Ciprofloxacin, resulting in lower serum and urine level.
ADVERSE EFFECT:
Ciprofloxacin is generally well tolerated. Some commonly reported adverse effects are diarrhoea, vomiting, abdominal pain, headache, restelessness, and rash. Other side effects, which have been reported very rarely, include arthralgia and increase the serum transaminases levels.
DOSAGE AND ADMINISTRATION:
The dosage of Ciprofloxacin is determined on the basis of severity of infection, type of infecting organism and age, weight ad renal function of the patients.
The recommended dosage schedule of oral Ciprofloxacin is as follows:
(i) Uncomplicated UTI: 250mg every 12 hours
(ii) Prostatitis and complicated UTI patients with severe underlying structural abnormalities: 500mg every 12 hours.
(iii) Lower respiratory tract infections: Mild – 250mg
Moderate to severe-500mg every 12 hours. Dosage of 250mg every 12 hours should preferably be used in cases of infections with resistant gram-positive bacteria.
(iv) Gynecological infections and diarrhoea of bacterial
origin: 500mg every 12 hours.
(v) Septicemia, bacteremia and surgical infections: Initially I.V therapy may be followed by oral 500 to 700mg every 12 hours.
(vi) Skin, soft tissue and joint infections: Mild to moderate-500mg every 12 hour. Severe – 750mg every 12 hours. In the majority of other infections – 500 to 750 mg twice daily should be administered. In enteric fever the dose of 500 to 750mg twice a day for 10-14 days.
The total daily dosage should be halved in patients with severe renal impairment (creatinine clearance <20ml/min.)
STORAGE:
Store below 30oC, protected from light and moisture. Keep out of reach of children.
Please follow and like us: