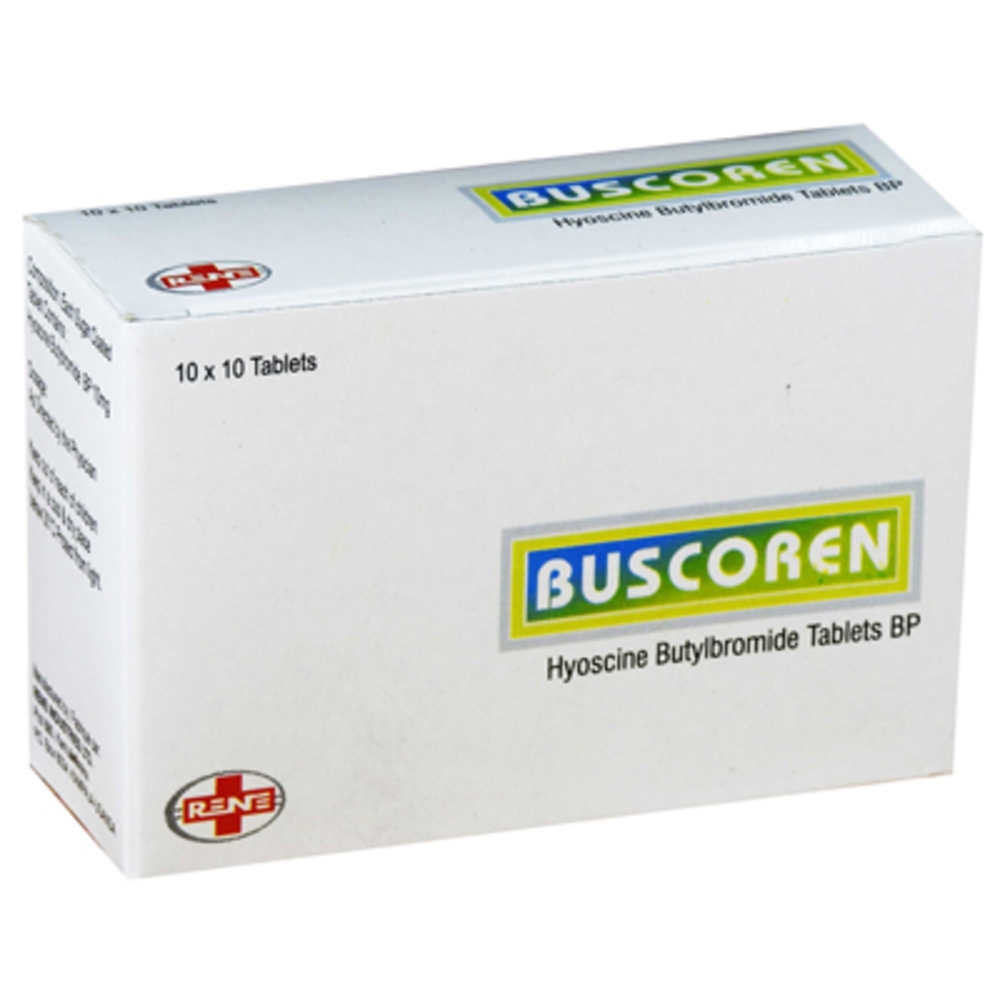 BUSCOREN
Hyoscine belongs to the group of medications called antispasmodics. Hyoscine is used to relieve smooth muscle spasms (cramps) in the stomach and intestines and in the bladder and urethra. Hyoscine reduces spasms by relaxing smooth muscles within the stomach, intestines, bladder and urethra.
Presentation
Blister pack of 10 x 10 Tablets

Description
Indications:
Buscoren tablets are indicated for the relief of spasm of the genito-urinary tract or gastro- intestinal tract and for the symptomatic relief of Irritable Bowel Syndrome.
Pharmacological Class
Antispasmodics
Pharmacological Properties
Spasmolytic
Mechanism of Action
Buscoren exerts a spasmolytic action on the smooth muscle of the gastrointestinal, biliary and genito-urinary tracts. As a quaternary ammonium derivative, Hyoscine Butylbromide does not enter the central nervous system. Therefore, anticholinergic side effects at the central nervous system do not occur. Peripheral anticholinergic action results from a ganglion-blocking action within the visceral wall as well as from an anti-muscarinic activity.
Side effects
Allergic reactions such as skin reactions e.g. nettle rash, itching (affects fewer than 1 in 100 people), rash, redness of the skin. Severe allergic reactions (anaphylactic shock) such as difficulty breathing, feeling faint or dizzy (shock). Painful red eye with loss of vision
Contraindications:
Buscoren tablets should not be administered to patients with myasthenia gravis, megacolon and narrow angle glaucoma. In addition, they should not be given to patients with a known hypersensitivity to Hyoscine Butylbromide or any other component of the product.
Drug Interactions
The anticholinergic effect of drugs such as tri- and tetracyclic antidepressants, antihistamines, quinidine, amantadine, antipsychotics (e.g. butyrophenones, phenothiazines), disopyramide and other anticholinergics (e.g. tiotropium, ipratropium, atropine-like compounds) may be intensified by Buscoren.
Please follow and like us: