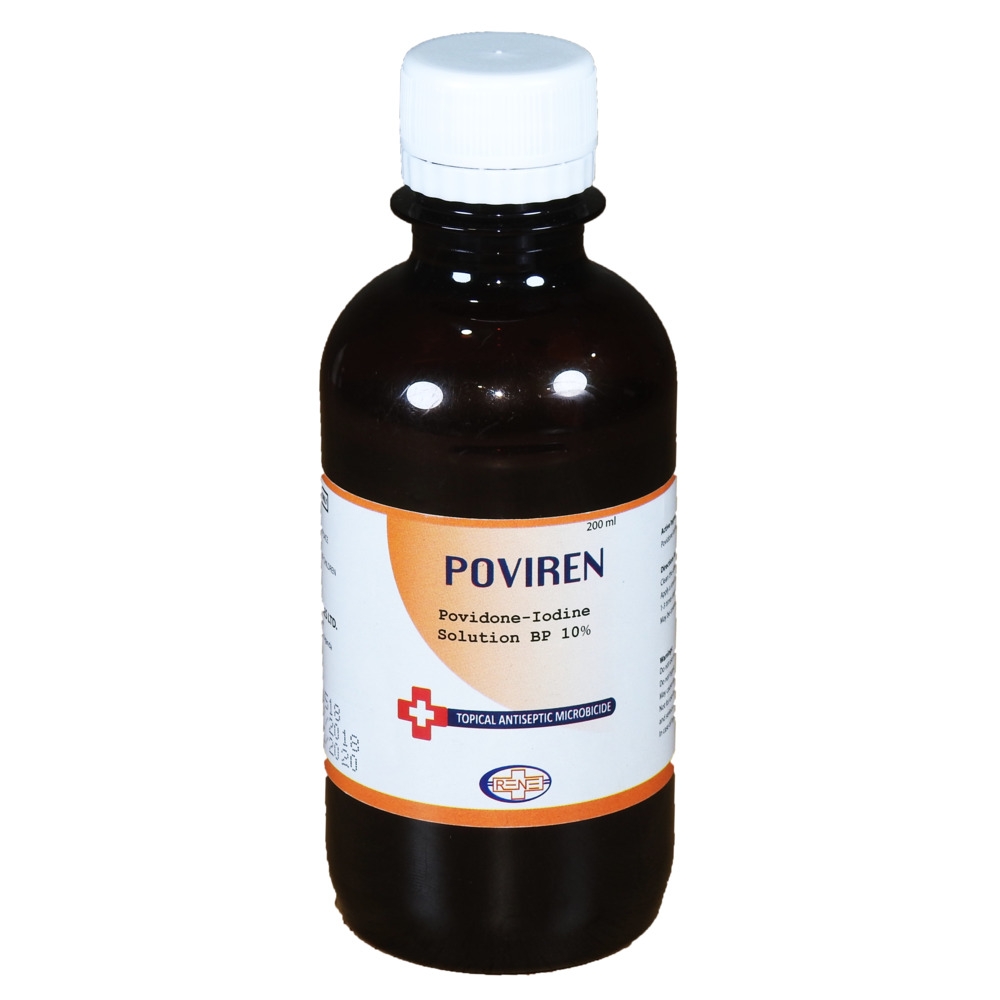 Description
COMPOSITION
Poviren Solution contains povidone- iodine BP 10% w/v as the active ingredient.
Therapeutic indications
For preparation of the skin prior to surgery.
Helps reduce bacteria that potentially can cause skin infection.
Posology and method of administration
Posology:
Adults and Children:
Apply to the affected area using cotton wool as required.
Method of administration.
For external use only.
Clean the operative site prior to surgery.
Apply the product and allow to dry.
May be covered with a bandage.
Contraindication
Do not use poviren if you are allergic (hypersensitive) to povidone- iodine or any of the other ingredients.
Avoid regular use in patients with thyroid disorders (in adults), in patients using lithium, corrected gestational age under 32 weeks and in infants with bodyweight under 1.5 kg.
Avoid regular use in neonates.
Special warnings and precautions for use
In pre-operative prepping, avoid "pooling" beneath the patient.
Do not use for large open wounds; The application of povidone–iodine to large wounds or severe burns may produce systemic adverse effects such as metabolic acidosis, hypernatraemia and impairment of renal function.
Interaction with other medicinal products and other forms of interaction
Talk to your doctor or nurse before using Povidone-iodine
Surgical Scrub if you are taking any other medicines, specifically:
– Wound treatments.
– Other skin disinfectants.
– Lithium (see 'Do not use').
– False positive results may occur in certain stool or urine tests.
– The results of certain thyroid tests may be affected.
Pregnancy and lactation
Pregnancy: Sufficient iodine may be absorbed to affect the fetal thyroid in the second and third trimester.
Breast feeding: Avoid regular or excessive use.
Overdose
Poviren solution is for external use and overdose is unlikely however if accidentally ingested/ swallowed: go to the accident and emergency department of your nearest hospital.
Pharmacological properties
Mechanism of action
Povidone iodine has a broad antimicrobial spectrum: bacteria, viruses, bacterial endospores, fungi and protozoas. It oxidizes microbial cell constituents, iodinates proteins and inactivates them.
Pharmacokinetic properties
Little iodine is absorbed through intact skin.
Side effects
Rare; Sensitivity
Prolonged exposure to wet solution may cause irritation or, rarely, severe skin reactions
PRESENTATION
Poviren solution is a brown solution and comes in amber PET bottle with plastic caps: 200ml.
STORAGE INSTRUCTIONS
Store in a cool, dry place protected from light.
Keep the bottle tightly closed. Do not store above 30 °C,
Keep out of reach and sight of Children.
Please follow and like us: