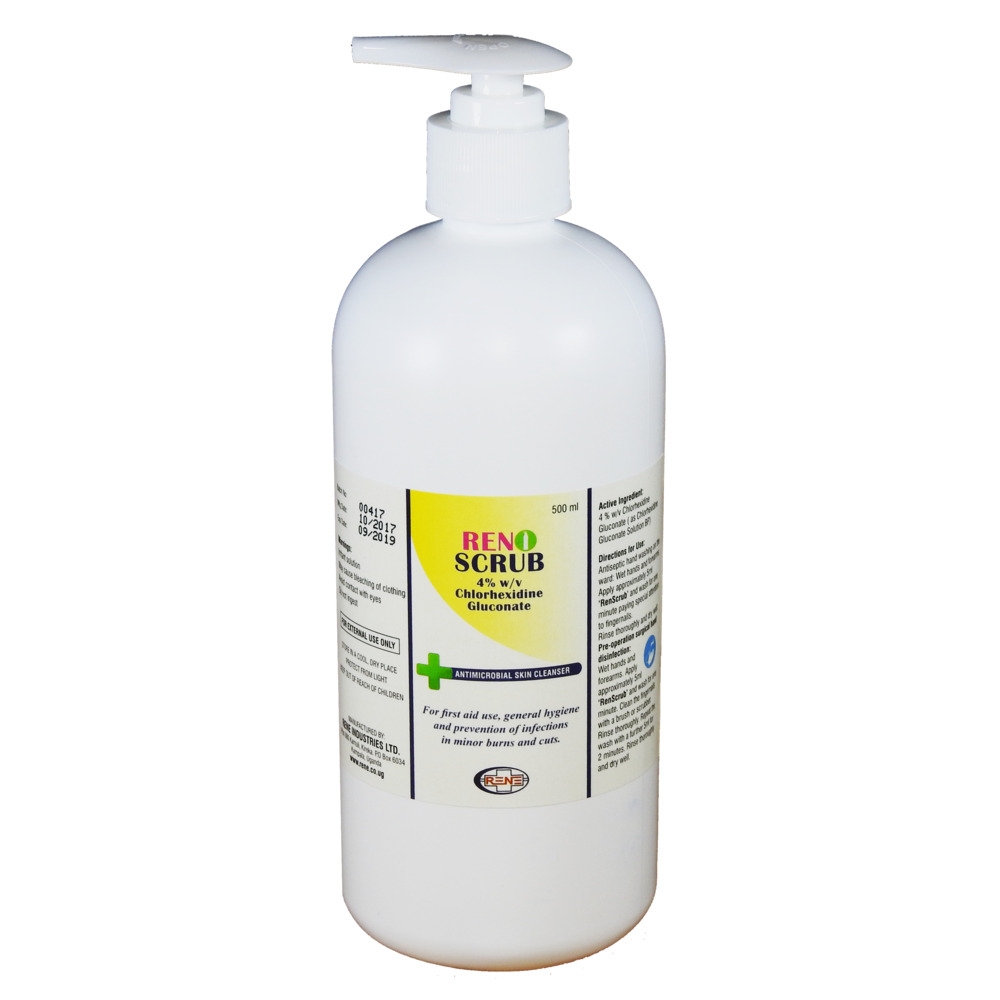 Description
COMPOSITION
Surgical spirit contains chlorhexidine gluconate 4% w/v as the active ingredient.
It also contains isopropyl alcohol, polysorbate-80, sodium methyl paraben.
Therapeutic indications
Renscrub is used for pre-operative hand and skin disinfection and General hand and skin disinfection.
Posology and method of administration
Children:
Use with care in newborn babies,
especially those born prematurely.
Adults
Method of administration:
For Antiseptic Hand washing on the Ward; Wet the hands and forearms, apply 5 ml of Renscrub and wash for one minute. Rinse thoroughly and dry.
Pre-operation surgical hand disinfection: Wet hands and forearms, apply approximately 5ml of Renscrub solution and wash for one minute, clean the finger nails with a brush or scrubber.
Rinse thouroughly. Repeat the wash with a further 5ml for 2 minutes. Rinse thoroughly and dry well.
Contraindication
Do not use Renscrub if you are allergic (hypersensitive) to chlorhexidine gluconate or any of the other ingredients of this medicine.
Special warnings and precautions for use
Avoid contact with eyes, brain, meninges, eyes and middle ear.
Use with care in newborn babies, especially those born prematurely.
Interaction with other medicinal products and other forms of interaction
Pregnancy and lactation
Overdose
Overdose is uncommon since Renscrub is for external use only
If it comes into contact with the eyes, wash out immediately and
thoroughly with water.
Pharmacological properties
Mechanism of action:
It strongly adsorbs to bacterial membranes, causing leakage of small molecules and precipitation of cytoplasmic proteins.
It is active against vegetative bacteria and mycobacteria and has moderate activity against fungi and viruses.
Pharmacokinetic properties
Chlorhexidine is used as a topical agent and more strongly binds to protein in the outermost layer of the skin, withstanding removal by alcohol and immediately decreasing organisms on the skin after one application.
Side effects
Very rare (probably affect less than 1 in every 10,000 people).
Serious allergic reactions may occur which can cause breathing
difficulties, weakness, collapse and death, and can sometimes be
preceded by swelling (in particular lip/tongue and facial swelling), or rash.
PRESENTATION
Renscrub is packed in white colored bottle with dispenser: 500ml.
STORAGE INSTRUCTIONS
Store in a cool, dry place protected from light.
Keep the bottle tightly closed. Do not store above 30 °C,
Keep out of reach and sight of Children.
Please follow and like us: